VHA Innovation Ecosystem: Engaging HealthTech Entrepreneurs
October 25 @ 12:00 pm

-

1:00 pm
The VHA is home to the largest integrated healthcare system in America. Come hear about their opportunities for innovation and startups.
About this event
The Veterans Health Administration (VHA) is home to America's largest integrated healthcare system with 171 medical centers and 1,112 outpatient sites. The VHA Innovation Ecosystem was created to be the catalyst for healthcare discovery and innovation and provides several opportunities for independent entrepreneurs and startups as well as VHA providers and staff. The collaborative nature of their network spans leaders in academia, nonprofit, and industry and they are all ready to work with the community to develop new breakthroughs and solutions to improve patient care.
Come to this session to hear about the many programs going on in the VHA Innovation Ecosystem and learn how you can collaborate on your early-stage ideas with this vast network of healthcare leaders.
Q&A to follow the presentation!
Featured Speakers:
Eric Ayala – Innovation Specialist at the Clement J. Zablocki VA Medical Center
Allison Amrhein – Director of Operations at the VHA Innovators Network
Suzanne Shirley – Director of Community Engagement & Fellowship at the VHA Innovation Ecosystem
Anne Lord Bailey – Emerging Tech Clinical Specialist at US Dept. of Veterans Affairs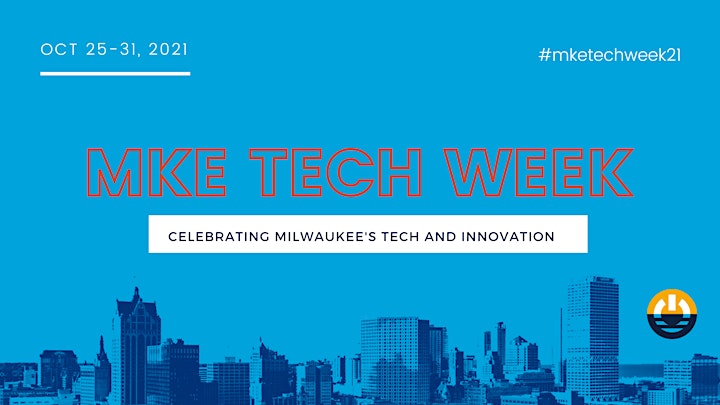 This event is a part of the inaugural MKE Tech Week which celebrates and supports the Milwaukee region's tech and startup ecosystem featuring over 50 events hosted by 35 community organizations. For a full schedule of events, click here.
Thanks to our sponsor: BioForward!

Eric Ayala: Began his career in Submarines, certified as a Six Sigma Black Belt (ASQ), received his Master's Degree in Occupational Therapy and Business Administration, both from the University of Wisconsin-Madison. He specializes in adapting entrepreneurial and Lean Startup practices to Federal healthcare, and has a passion for Marketing, Human-Centered Design, and Design Thinking.
As Director of Operations for the VHA Innovators Network, Allison Amrhein guides a team of incredible Innovation Specialists from VA Medical Centers across the country through operational day-to-day functions and leads operational strategic planning for the VHA Innovators Network. Particular areas of leadership responsibility include financial maintenance and planning, internal VA communications and relationship building, development of value metrics and oversight of data collection, and management of the annual Spark-Seed-Spread Innovation Investment Program application and review process. Prior to her role as Director of Operations, Allison served as an Innovation Coordinator, managing high-value innovation projects and contracts, as well as the Director of Executive Correspondence for the Office of the Under Secretary for Health for Operations and Maintenance during her tenure at VA. Prior to joining VA, she was a health systems researcher and technical writer for a number of non-profit organizations. Allison received her Master of Public Health from the University of Kentucky and Health Administration degree from Indiana University. She is also a certified yoga instructor, Poodle dog mom, and has a four-year-old son named Charlie.
Suzanne Shirley, LCSW, is the Director of Community Engagement & Fellowship with the Veterans Health Administration Innovation Ecosystem (VHA IE) and 2021 recipient of the Arthur S. Flemming Award, Service to the Citizen Award, and Theodore Roosevelt (Teddy) Award. In her role as Director of Community Engagement, Suzanne has transformed the way the United States Department of Veterans Affairs (VA) engages with both internal and external collaborators to drive and accelerate health care innovation within one of the country's largest health care systems.
Through community engagement across VA, government, academia, industry and Veteran focused non-profits/VSOs, Suzanne seeks to uncover customer needs and build engagement strategies that address core needs and enable collaborative innovation. Initiatives and programs stemming from this work are, The Initiative to End Diabetic Limb Loss, Elizabeth Dole Foundation's Respite Relief for Military and Veteran Caregivers, Armed Services Arts Partnership- Creative Arts in VA pilot, and the VA Center for Development and Civic Engagement's Innovation Academy.
As Director of VHA's Innovation Fellowship Program and in her role as MIT Catalyst Faculty, Suzanne empowers VA thought leaders through experiential and academic learning in scaling transformative initiatives that aim to reduce cost and improve outcomes for Veterans.
Anne Lord Bailey, PharmD, BCPS, is an Emerging Tech Clinical Specialist for the VHA Innovation Ecosystem and Co-Lead for VHAIE's Extended Reality (XR) Network. She is also a Board Certified Pharmacotherapy Specialist. After completing her residency at Charles George VA Medical Center in Asheville, NC, Dr. Bailey spent 2 years focused on treating and curing Veterans with Hepatitis C. During that time, Dr. Bailey's passion for healthcare innovation grew as she led a team of clinicians and piloted a Mobile Hep C Clinic for rural Veterans. She continues to grow her knowledge and experience through coaching, collaborating, and networking in both direct patient care and healthcare innovation, particularly in the space of XR.