FOUNDER/FEST V – Milwaukee Founders Community 1st Birthday Party
September 14 @ 6:00 pm

-

9:00 pm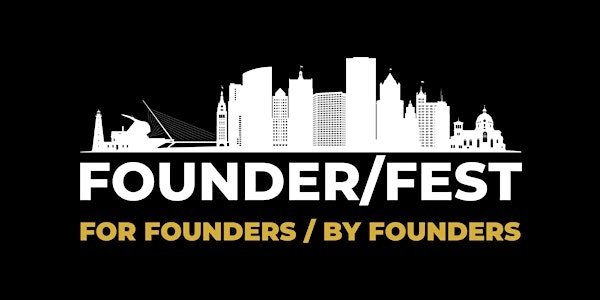 The Milwaukee Founders Community is turning ONE! Thank you for the ongoing support. Please join us for our 1st Birthday Party – not in some fancy event place, but rather in a garage where ideas start.
What is the Milwaukee Founders Community?
A grassroots collaboration of Milwaukee startup founders has formed to host the second version of an event that brings founders together to create an experience of community, support, and celebration.
Currently we host Quarterly FOUNDER/FEST programs to connect and celebrate founders.
WHO WILL BE THERE?
Founders, entrepreneurs, and community members in the startup ecosystem from all over the Milwaukee region and beyond will be in attendance. If you're the current, recent, or future founder of a startup, please make an effort to come out and participate in the Milwaukee founder community.
We ask that each individual commits to the following:
Constructive comments only — founders have a vision, see how you can help
Maintain an inclusive atmosphere — founders of all types are welcome
Relationships over business cards — create connections before transactions
WHAT'S ON TAP?
FOUNDER/FEST will focus on socializing, celebrating, and building relationships. The event will emphasize storytelling, rather than how-to workshops.
6:00 pm | FOUNDER/FEST begins
6:00-9:00 pm | Music, drinks, networking, and food
6:00-8:00 pm | The Startup Village is presented by The Milky Way Tech Hub. Milky Way Tech hub will host the Startup Village segment which aims to highlight rising founders in the city.
Are you a founder and want to share what you're working on with the community? Do you want to win $2,500+ to kickstart your idea or company the night of FOUNDER/FEST? Then, apply for a booth in our Startup Village to demo your product or service and for a chance to win.
Sign up to Demo: https://forms.gle/wCQk7Esgmpny5gp99
6:30 pm | Introduction & Welcome
6:30-8:00 pm | Founder Features: Short 15 minute stories by founders. Sponsored by Godfrey and Kahn
Speaker lineup coming soon! Presented by EmpowerHR
9:00 pm | FOUNDER/FEST concludes; After party
FOUNDER/FEST is organized by the Milwaukee Founders Community, which is a decentralized, asynchronous collection of founders looking to challenge the status quo and build the future by consistently bringing the founder community together. There is no board, no committees, no economic reports, no consultants, just a community of doers focused on founders and helping them along their journey.